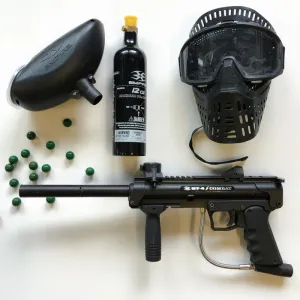 Here for your Paintball Needs
In addition to selling new and used paintball equipment, we also offer Rental, Repair and CO2 Tank Refills.
Make your reservation
1. ~Rentals~
$20.00~ Complete rental package includes the following:
Tippmann Stormer marker or similar, 200 round hopper, full face mask and 12oz Co2 tank. Paint sold separately.
2.~Paint~
500 round bags start at only $12.99 each
Get a discount by buying a 2000 round case, 4 bags.  Starting at only $42.99
Rent 4 packages and get 10% off one case of paintballs.
3. ~Extra items available for rent~
12oz Co2 tank, $6.00
Mask, $4.00
Chest Protector and Gloves, $6.00
4. ~CO2 Refills~
Up to a 12 ounce CO2 bottle only $3.50
Up to a 20 ounce CO2 bottle only $4.50
5 pound bottles for home brewing can be filled for only $4.50 per pound.
5. ~Repairs~
Repairs are a minimum fee of $10 which includes diagnostic, cleaning and oiling the marker. Parts and additional labor for the repair will be approved by you before repairs are made. We carry a small line of parts including O-rings, Hoppers, feed elbows, burst disc and can order any other parts needed.